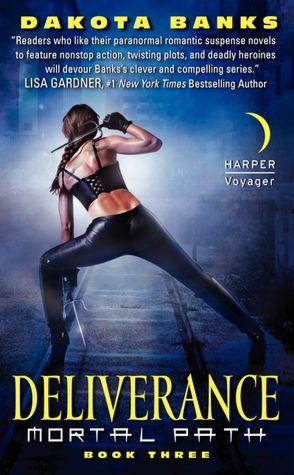 I love urban fantasy, and as you know, I am currently a green-grade KFM fighter (w00t), so it's no surprise that I am a huge fan of Dakota Banks' Mortal Path series. Demons? Assassins? Badass femme fatales? Bring it! The third book, DELIVERANCE, doesn't come out until the end of March, but lucky me, I scored a galley. Dark and suspenseful, this is a delicious read. Here, start with the first book if you want:
"Three hundred years ago, she sold her soul to a demon. Now she wants it back.
For centuries, the woman calling herself Maliha Crayne has lived a second life—as an assassin for the malevolent creature who owns her soul. A haunted killer with the blood of countless victims on her hands, she has finally discovered a way to nullify the demonic pact that chains her: If she saves a life for every one she has taken, she will be free.
But if she fails, her punishments will be unspeakable, unendurable . . . and neverending."
You see these bags under my eyes? IT'S BECAUSE I COULDN'T SLEEP UNTIL I FINISHED THIS BOOK.
This series has big name urban fantasy authors vouching for it, as well:
"A passionate, fascinating story packed with action and history. Three hundred years ago, Maliha Crayne was burned at the stake. Now she's in a race against time to save the world and her soul, and you'll be with her step by step." (David Morrell, New York Times bestselling author of The Brotherhood of the Rose )
"THE MORTAL PATH is a novel to be savored for both its edge of suspense and the pure joy of its storytelling. Part immortal, all human, Maliha is a heroine who will leave readers breathless and craving more. Not to be missed!" (James Rollins, New York Times bestselling author of Map of Bones and Black Order )
"Sweeping across continents and centuries, THE MORTAL PATH by Dakota Banks is story-telling at its most vivid. The characters are fascinating, the plot nail-biting, and the period pieces memorable. Curl up in your favorite chair - entertainment is guaranteed." (Gayle Lynds, New York Times bestselling author of The Last Spymaster)
So if you're ready for a gritty, edge-of-your-seat urban fantasy, I highly recommend the Mortal Path series.